Upcoming Events
Cookie Sale

Stop by and pick up some cookies at the cookie sale Sunday, December 16 before and after the church service. This is a great way to pick up a variety of baked goodies for yourself or to share with friend and family during the Christmas Season. Cookies will sell for $4.00 a dozen and the proceeds will be donated to the United Church of Christ's Disaster Readiness and Response Ministry Team that provides support and volunteers for disaster recovery, both locally and nationally.

Snowball Dance

On Saturday January 19th at 6:00 p.m. we will be holding our Snowball Dance featuring Chris Wick & the Hip Breakers. Come out, enjoy the music and dance the night away. There will be light refreshments provided. Tickets cost $10. The snow date will be January 26th. Call the church office for tickets.

Basket & Bag Bingo

Join us on February 9th for our annual Basket Bingo with a new twist of Bags! Doors open at 4:30 p.m. and bingo starts at 6:00 p.m. Tickets are $22 in advance and $25 on the day of the event. Ticket price includes a light meal of chicken corn soup, sandwiches, salads, dessert, snacks and beverages, a chance at door prizes, and 20 games of bingo. Also, if you bring a nonperishable item, you will recieve a raffle ticket for each item you bring for a a chance to win a Longaberger Basket. To reserve your ticket call the church office.

~If you, your business or somebody you know would like to sponsor an item for this event please contact the church office for the necessary information and paperwork!
Choir Practice
Choir will being meeting again on Wednesday's at 7 p.m. through the New Year! See you there!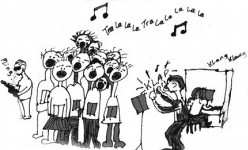 Happy New Years!
As we ring in the new year we are planning fun and new events for everybody to enjoy! Please stay tuned on this page and our calander as these events are being planned.