Upcoming Events
Sub and Pretzel Sandwich Sale
We will be holding a sub and sandwich sale to benefit the Building Fund. The subs will be $5.00 and the pretzel sandwiches will cost $5. Order forms are due October 14th and pick up will be from 4-6 p.m. on October 24th. Return your order forms to Kim and Ashley Criswell.
Pot Pie Dinner
The Pot Pie Dinner is fast approaching on Saturday, October 20th. The serving time will be from 4-6 p.m. and the ticket prices are as follows: Adults in advance- $12.00 and at the door- $14.00, Children 6-12 in advance- $6.00 and at the door- $7.00, and Children 5 and under FREE! The meal includes all you can eat baked and boiled pot pie, roll, apple sauce, coleslaw, and your choice of dessert. Tickets are now on sale! They will be available after church and by calling the church office office.
Apple/Pumpkin Social
The Apple/Pumpkin Social is on October 21st at 6:30 p.m. We are going to have a fun evening of fellowship. So bring an apple or pumpkin dish and/or yourself for a fun filled evening! We will be setting off Chinese Lanterns on this night as well as an early All Saints Day event in remembrance of those we love who have passed. We will be selling the lanterns after church up until the weekend of the event and you will recieve your lantern on the night of the event. Lanterns will be $5 each and are Eco Friendly. Come help us light up the sky!

Choir Practice
Choir will being meeting again on Wednesday's at 7p.m. through the New Year! See you there!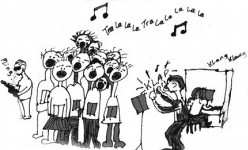 Basket Bingo
Join us for Basket Bingo on November 17th to benefit our Building Fund. Bingo starts at 6:00 p.m. and Doors open at 4:30 p.m. Ticket prices are $22.00 in advance, or $25.00 on the day of event. The ticket price includes: meal (baked pot pie, sandwiches, salads, dessert, and beverage), snacks, chance at Door Prizes, and 20 Games of Bingo. Bring a nonperishable food item and receive a raffle ticket for each item you bring. The cans will be donated to St. Jacob's Food Bank. There will also be additional raffles and special games for purchase on the day of the event. For tickets please call the church office at (717)792-4326 or email DoingGodsWork@StJacobsUCC.org. See you there!
Christmas Dinner
(Members Only)
The annual Christmas Dinner will be held on Saturday December 1st starting at 6:00 p.m. Elva Hurst will be joining us with her Chalk Talk. Prices are $13 for adults, $6.50 for children 4-10, and children 3 and under are free. Tickets are on sale now. They will be available after church and by calling the church office office. The last day to purchase tickets is November 25th.
Breakfast with Santa
We will be having our annual Breakfast with Santa from 8:30-11:00 a.m. on December 8th. Breakfast includes pancakes, sausage, and a special visit from Santa!! Breakfast prices are: Adults- $5.00, Children 4-12- $3, and children under 4 and FREE! During breakfast the children from our ELC will have a holiday concert as well!

After you enjoy your breakfast, visit with Santa, and hear Christmas jingles, the kids can visit Santa's Workshop where they can purchase small gifts for their parets, siblings, grandparents, etc. While the children are in the workship, parents can shop at our Scholastic Book Fair and find Christmas presents for the kids.

Mark your calendars and bring the whole family to St. Jacob's! It's sure to be a fun filled morning for everyone! No Tickets Needed!